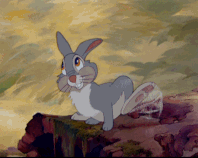 "Rampestampertjes" is a Dutch chatroom on Kongregate.
It's Friday 15 October 2021.
Description
[
]
Its Roomowner is called Piepje28. He is known for idleing in the room while "playing" his own game to promote it.
The room used to be called "Ik Zal Handhaven", but the name was changed on June 29, 2010.
Other Dutch chatrooms are De Fabeltjeskrantredactie, and the much less active and way less important Het Eetcafé.
The name is a contraction of "Stampertje", the Dutch translation of "Thumper", the rabbit from the Disney movie Bambi and "rampestampen", Dutch slang for having intercourse.
A lot of the room's regular members have mental handicaps, such as different types of autism and OCD. This can make communication difficult. For instance, regulars are known to be grammar nazi's which often derails the subject of a discussion. This is also why the room is widely known to have a very negative atmosphere.
Regular Moderators
[
]
Merryl

[

]
Merryl is known as a friendly, nice and a funny moderator. She LOVES hugging, and she can fly since she's a bird. Ow and one more thing...She's innocent! I hope.. (H). Left after being criticized too much.
Terr002
[
]
Terr002 is a nice moderator. He's also a Player Moderator in Runescape (Terr). He's not one of the most active mods, but there are periods where he can be online a lot. Watch out for him though! If you aren't nice, he'll terrorize you.
Past Moderators

[

]
Darkruler2005

[

]
He was the former Room owner of Rampestampertjes, and he was always there. Always. Ironically, he was mostly idling while playing the game Anti-Idle: The Game. We all secretly love him, even though most of the people don't have the guts to show it. And, it must be said, It's sometimes very easy to troll him. That is probably also the reason why most of the spammers in this room (Owner, Delalcon and other unimportant people) come to this room.
Also, the kind of games he likes? Mardek. :D Tally Ho!
Regulars
[
]
Users
Description
AbsoluteDaan

Very Absolute and Daan-ish. Likes movies and MARDEK. He's insane, because he trained Mardek to level 100. Quote: " Het boeit toch niets, want de helft van de mensen hier haat me (lees: mods) en de andere helft vind me aardig". Enjoys being called Danus. He's also known as AbsoluteArse.

Diedie98

The Noob. Annoying, but not the lowest level. Puts high value on grammar, and is constantly mocked.

Goatboy
Another nice Belgian guy. Studies medicine and can provide the nastiest pictures you could ever imagine, if you'd want. He also currently has the most Kong points in Rampe. Is the 'No, he is not my boyfriend but I want to grow old with him!!one1!1' of Rosadosa.
Keepertje

Made a child... Yep...

Klopklop25

"Knock knock" "Who's there?"

"A lover" "A lover who?"


"A mute-button lover. muted 200 and counting (6)"

Lamsgebak
Cunt, female and sometimes funny. Good friends with the asian guy. (what's his name?)
Lolgast

A fan of RP'ing. Usually hits AbsoluteDaan or vanderwaal or throws them out of the window as soon as he enters the chatroom. Also a fan of getting badges and WarLight.

Maqrkk

Always trying to go for badges and point challenges. He's also super lazy, creates games, likes mind-breaking puzzles, has a huge coffee-addiction and a good sense of humor.

Olaffiej

Dunno what games he likes, but we certainly like him. Is very proud of being older than Darkruler in Kong-age. By three days, which is a lot. Has a tendency to chase mods off of Kong. Also famous for being the founder of the Rampestampertjes Contest.

olivierasseb

a.k.a known as Zoef. He's an Asian and because of his hard to pronounce name now goes by the name of Zoef. He likes any kind of interesting games and isn't good in anything. (BLASPHEMY! An Asian that isn't good in anything?). His mom's farts are legendary, and his father's a Mahjong-aholic. He'll probably turn out into a legendary farting Mahjong-aholic.

Edit. I am particulary good at being lazy though.


Particularly interesting quote from Zoef: "olivierasseb: HET IS PERFECT NATUURLIJK OM MET EEN DOOIE MANNETJES ZEEKOEKALF ANALE SEKS TE HEBBEN". (Translated: "It's perfectly normal to have anal sex with a dead manatee male".)




Here he can be seen live in action: http://www.youtube.com/watch?v=2rd1baSQI_8

""TAKATAKATA WOOHOOHOO HIIIII"

owner007

Likes games as Battle Dawn and, like omega64, annnoying people. He hates Gabriel_UP and The_Chosen_One (Both Moderators), because they ban and silence him too much. Although they got a good reason for it, Owner007 being Owner007 and all. Heeft nooit een hoofdletter gehad.

Piepje28

Piepje28 is a small, tiny mouse. He likes the cold and hates the heat. He's always happy, funny and nice. And happy, again. He's also very helpful. And happy! He makes everyone happy in the chat. He works on a game. What game? We don't know, but it's gonna be huge!

Roland1995

Likes badges and cards and girls :p

Thommytje

Thommytje recently switched to a new acc to get all the badges once more, Tho is King Nar on its own. With his Nar-stick he slams every unauthorized person to the ground. (Sometimes even authorized people). (H)

Tictacmint

Also known as Tictiet. Member since Aug. 2008. He also refreshes your breath. He actually doesn't care that he's in here. Kick him out, kick him ooout! His breath is horrible, so that's why he names himself to what he needs so much.

Vanderwaal

Vanderwaal is a real badge hunter. He regurally is too busy with his game to look at the chat.

Zeldami
Troll, that's all.
Past regulars
[
]
| Users | Description | | |
| --- | --- | --- | --- |
| Delalcon | OMG IT'S A SNACK frikandelalcon. | | |
| Imaginator3 | Imaginaahahation, ihimaginaahation, imaahahaginatiohon, imagination, imagination, imaginatiooon! (you'll have to be the one with the imagination, 'cause he doesn't have it) | | |
| RafV | Nice Belgian guy, talks about random things, like how big his crap is. Girls want to be with him, guys want to be him. | | |
| Rosadosa | Came in one day and took our Goat away. She's the 'No, she is not my girlfriend but I want to grow old with her!!1!one1!' of Goatboy. RafV also still owes her a cup of noodles. | | |
| Youkill098 | The one everyone must know because he is been around for some time now. | | |
| Zengo | Haz a z-addiction and iz known for hiz very dry zenze of humor. May call himzelf a Free Rider 2 profezzional and Trackmaniac too. | | |