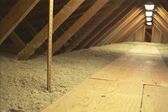 An attic is a space found directly below the pitched roof of a house or other building (also called garret, loft or sky parlor). As attics fill the space between the ceiling of the top floor of a building and the slanted roof, they are known for being awkwardly shaped spaces with exposed rafters and difficult-to-access corners. While some attics are converted (see loft conversion) as bedrooms or home offices, complete with windows and staircases, most attics remain hard to get to and neglected, and are typically used for storage. Attics can also help control temperature in a house by providing a large mass of unmoving air. Hot air rising from lower floors of a building often gets trapped in the attic, further compounding their reputation for inhospitability. However in recent years many attics have been insulated to help decrease heating costs.
In some places attic is used more specifically to apply to lofts which have boarded floors and ceilings, and usually windows or skylights, and then loft is kept to mean a dark, unboarded roof-space which lacks these features.
Wait - THE attic, not AN attic?
Aw, fooey.
The Attic was deleted in May 2013 due to low chat activity.
Regular Chatters
Edit
A very nice person, as well an advocate of The Attic. A long time regular. He should be respected at all times.
Normally a nice person unless aggravated. Helpful, honest, and an advocate of The Attic.
A seemingly nice person who does not get on The Attic much anymore, but still does occasionally.
A talkative and enjoyable person, fun to be around.
Not very active, but a regular of The Attic. Very nice.
A seemingly serious person, but helpful and kind enough. A long time regular as well.
A regular lurker, but nice. Talkative if spoken to first.
A nice but serious person, rarely gets on anymore, but only gets on The Attic when he does.
A Neglected Chatroom that (No Longer) Exists in Peace and TranquilityEdit
The Attic 'has undergone changes....Changes such as an increased amount of visitors, a huge decrease in activity, and chatters. As we move past these changes, and renew our chatroom, lets hope that we can all continue to join each other in harmony, even with people actually chatting. Lets hope that The Attic can still be a place of peace.
Cool Things About The Attic
Edit
Game Tournaments...Soon to come!